Cursing Dilettante by Kim Schultz
I grew up in a household where swearing was not so much expression as punctuation. In college, the wonderfully old-
school and tremendously loving Mrs. Taylor slapped my face every time I cursed, and in doing so, made me fit for polite society and motherhood. Mothers of small children do not swear, good mothers, anyway. For swearing mommies, I can come up with Joan Crawford in Mommy Dearest and Ian Frazier's "The Cursing Mommy" series in The New Yorker. At this point, I try to use my inside-my-head voice when I swear.
I drove Baby 1.0 home from school and we stopped at a light off University Avenue, in Hillcrest near the post office. University there has two lanes of traffic each way plus turn lanes. An older lady with a wire bodega cart began crossing University against the light. There were many cars zooming by on University; the light was not close to changing. It looked like a suicide attempt.
"You stupid, stupid, stupid, lady," I said aloud. This is pretty benign for me, since when I get behind the wheel of a car, I swear like Gordon Ramsey presented with a bowl of salad with a dead mouse.
"Mommy, you said a bad word," Baby 1.0 told me from the back seat.
"What?"
"Stupid. You never, ever say that word," he intoned with the solemn sureness of the under-five set. "It's a bad word."
My husband and I had specifically not ever used the term bad word in our house. Curses are called adult words: words that adults—defined as people who are paying for the roof over their heads—can use.
"Did you hear that at school?" I asked.
"Yes, Miss Rita says it's a bad word and never ever to say it."
"Do you see what that lady is doing?" The lady in question had now crossed the median and had brought two cars to a sudden stop.
"Crossing the street."
"Does she have a walky-man?" (Translation: the white WALK sign at a cross-walk.)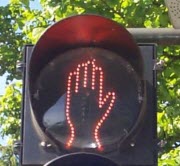 "No, it's a red hand."
"It's not even a flashy hand, is it?"
"No," he said.
"Do we cross the street on the hand?"
"No."
"Because why?"
"Because we get runned over by the cars."
"Run over, but yes. Cars will squish us flat."
"Yes."
"I think that's stupid," I said. "I think it's dangerous and just plain stupid."
"Okay," he said. "But it's a bad word."
"Words are not bad," I told him. "How we use them can be mean, and if Miss Rita doesn't want you to say stupid at school, then those are her rules. But we use all the words at home, okay?"
I realized my heart was racing, my stomach clenched, and that I was gripping the wheel with white-knuckled intensity. The lady made it across safely, with some honking and some screeching of tires, but to expose myself as callous, it wasn't my concern for her well-being that had me all wrenched. It was the idea that someone would tell my kid not to use a word.
I'm guessing that my working vocabulary is above the average. I read a lot; I love meeting members of my tribe who say a word and then say, "I'm not sure I'm pronouncing that right, because I've only read it and never said it aloud before." Words are the arrows in my writer's quiver. I feel lucky to have been born a native speaker of one of the slipperiest, convoluted and adaptable languages in the world. I love teaching my kids new words. (Baby 1.0's latest new word: phlebotomist; Baby 2.0's: bubble.) As a writer, not using a word—because it might make someone uncomfortable, because someone might have to go to a dictionary or their dictionary app to understand you—is more than mildly annoying; it's censorship.
"We use all the words," I told Baby 1.0 again, and he nodded and went back to looking out the window.
"Buh-bull," Baby 2.0 said.
Kim Schultz used to write about cell phone test equipment, particle counters, and nuclear waste disposal facilities for money, but now writes aridly acidic prose for her own amusement when her children are asleep. She's the secretary and volunteer coordinator for SDWI and is working on her novel, really.